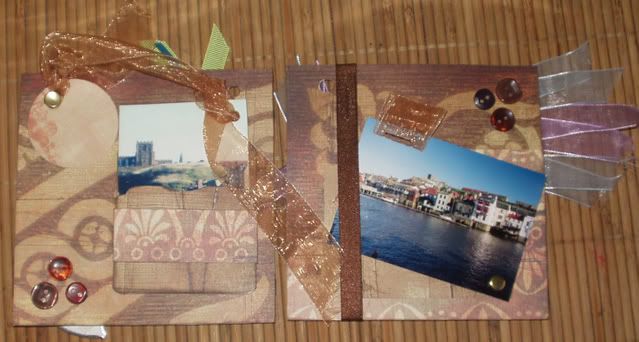 I got so side tracked yesterday doing a LO (see galleries on Carolinez Craftz Forum, link on the side)that I forgot that Sam's bed covers where in the dryer so when it came to bed time she had no covers and I had to run around doing them .Usually they get a proper dinner but today the are getting junk food as I want to work on some ATCs (My first ever).Oh the poor neglected children!!
Also when we woke up this morning the heating hadn't come on again I managed to get it on by changing the batteries in the thermostat ,serves us right for getting a flashy digi one, more to go wrong, I hope its all sorted now .It's a good job it is the thermostat as the boiler company didn't get back in touch even though I said it was urgent as Ste had just come out of hospital I had to put extra quilts on him to keep him warm.
Today I have posted two more pairs of the Whitby mini book , just some snaps of us on the board walk and a couple of the sights at Whitby.