Hi all, I hope you are well. I am a bit disappointed as I will not be able to go to our local(not to local for me) crop on April 12th as DH has already made arrangements, I know there is one nearer but I'm not sure where, I haven't been to a crop for ages I am missing people who understand my need to scrap. Moan over back to the bloogin.
I spent most of yesterday evening cutting peoples hair (my family's and they let me do it just in case you think I go around attacking people with scissors at random) so I didn't get to play but I did go blog hopping and looked at lots of lovely blogs which are truly inspirational.
I am playing about with different ways of laying out the post of the blog but what gets published and what is in the preview are two different things. I will probably have to keep fiddling about with it till it goes right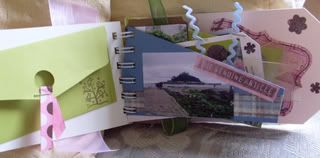 Today I am putting up photos of a bind it all book I did for a holiday we had to Cornwall, I was going to a big book( well paperbag sized) of the whole holiday but it got started and turned in to a UFO so I decided to break it up in to smaller chunks this book is for our visit to St Michaels mount.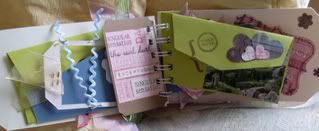 I used the tag sheet from Basic Grey paper pack as a template for most of the different tags and an envelope template to and then went to town with various punches stamps and ribbons.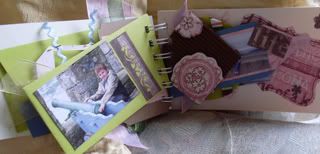 It didn't quite have the impact I was aiming for but it worked out alright in the end and in playing about I found a few things that might work well on larger LOs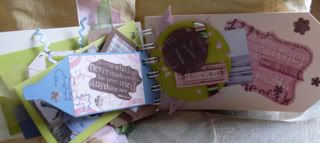 I still may do a series of 12x12 pages of the holiday that is when I can ninja the CD of DH to print them out its funny because about a year ago (probably when I first started the doomed paper bag book) I didn't think I could do the holiday in large format but now I want to take more time and go through it all so we have a popper log of what we did.
Thanks for looking and take care all.