Morning all,
I have not been up to much usual stuff, DD is revising, DS is sucked in to his computer he is doing clan stuff, he runs a clan its a sort of collective of computer game junkies of all ages who join forces to dominate other clans in battles in the realms of computer games. DH will no doubt be tinkering with computer parts and calling me every two minutes when he needs help as he still (and never will) have full use of his arm.
The Lo I have put up is one using buttons is part of a challenge on Carolinez craftsz forumz, I seem to be using a lot of my old hoarded stash recently, the paper I used was from a lucky dip selection I bought ages ago, I quite liked the lucky dip idea as there were some lovely papers there that I would never have bought my self but were fun to use the down side is there is always a few sheets that I just cant bring myself to use ( like spotty paper).For the scallops I traced round a piece of scalloped paper and then cut out with a craft knife, it could be done by drawing round a penny. I seem to have used a lot of buttons recently I am running out of nice ones I am hoping to strike lucky like I did last year and find some on the junk stall in our town center, its not really a junk stall its a kiosk that can be rented out buy organizations to raise money. I don't get down town much but I always have a nosey around to see if they have any scrap worthy bits.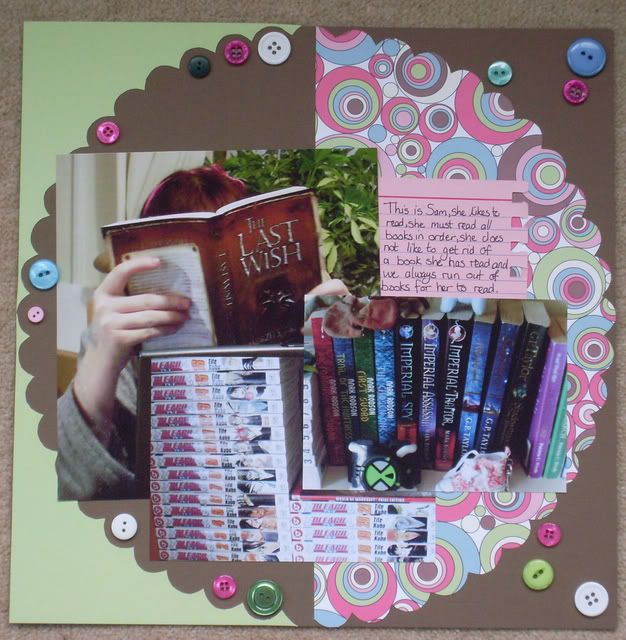 The LO is in celebration of DDs love of reading, the other day she proclaimed she would die without books, that was after a discussion about books being more gory that films as in childrens books they sleigh each other and rip rib cages open and things like that but if it was to be made in to a film then the rating would be an 18, on that revelation I said they should tell children that to encourage them to read but then you would get someone wanting to ban books. At that then ensued another conversation on how she would write her own books and then be imprisoned with other authors for writing and then the uprising and well I hope you get the drift the point is she loves to read.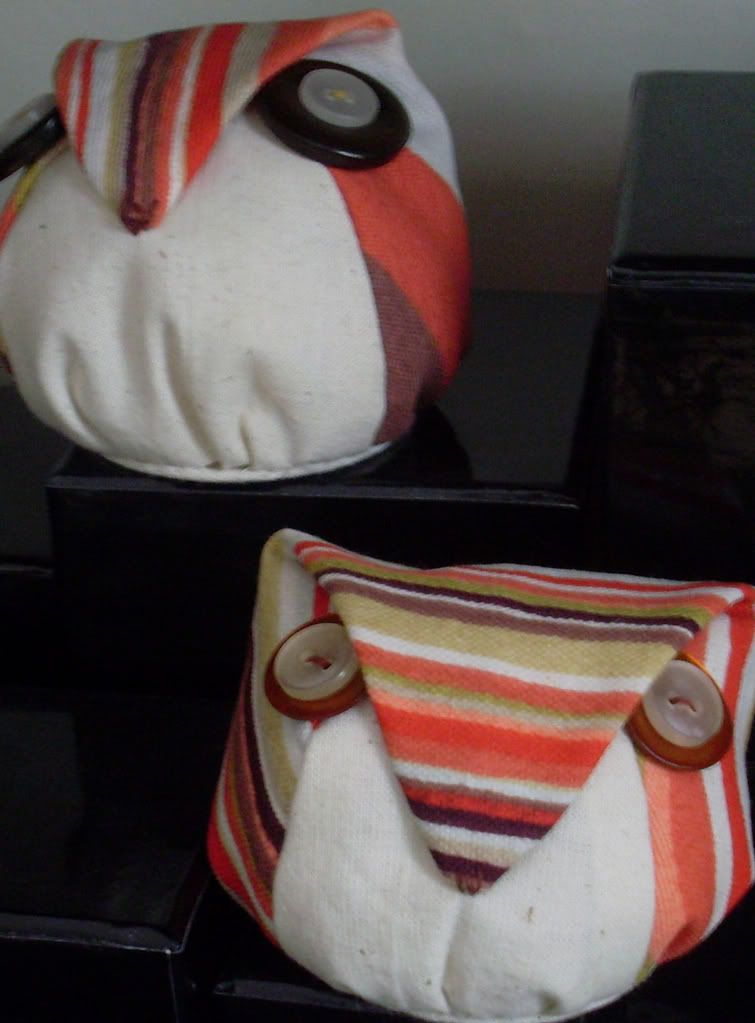 Here are two more little owls DS has claimed the first one so I get one of these and the other is a little gift for my mum, who has spent a couple of weeks de cluttering her front room so I am sending her some new clutter to go in it. I have done the eyes differently on these two although I think they are beginning to look a bit menacing, the penguin is slowly wining me over.
Take care and thanks for looking.