I had a close encounter of a chav kind yesterday when I was out doing the papers two chavs ran of with the trolley in hind site I should of just let them go with it, rang my distributer and not had to deliver the last fifty or so papers but I went after them and got the trolley back, it was really no problem because they just dropped the trolley pulled a stupid face and and said a stupid insult about DD and when I told DD she said how it that and insult(so it really wasn't an insult then.). I ended getting home a bit peed off and because of the unnecessary exorcise (It's against my religion to run) I ended up all chesty and was coughing and spluttering all over the place, I'm fine now , looking back it's a bit funny but it could have turned out with a different outcome, rant over back to the scrapping.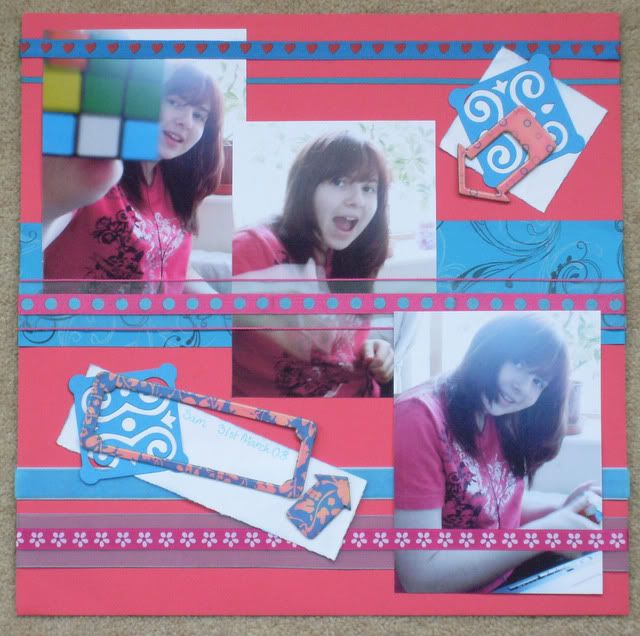 This LO is using some photos I quickly took of DD I didn't have much time to set anything on the camera as she has a camera sensing unit built in, the last photo of DD I took she was hiding behind the laptop, DD tells everyone she is violently allergic to cameras you point a camera at her she gets violent. I am doing a few LO with these photos but in different styles, This LO is a bit of a disaster it needs more doing to it but the layer of embossing powders had started to chip off so I had to leave well alone, it's sort of my fault as I heat embossed on ready dressed chipboard and because is it smooth there is nothing for the coating to hold on to I should have roughed it up with a emery board but I also wanted the colour to still show through proving that you cant have you cake and eat it, The wide ribbon has been stamped using staz on to sort of match DDs t-shirt. I may still have a careful fiddle with the LO to see if I can save it. The next one is better but that also nearly ended in disaster to
Stay tuned for the next episode of LOs gone wrong.
Take care and thanks for looking.