Hi all I hope you are well,
I have not been up to much today food shopping more washing and one LO, I think I was burnt out from yesterday,
Terrie
( who has a fantastic blog) asked how I fit so much in I have no idea, it was nice to have a really good day, one of the reasons for my not blogging was things where not good for me, but for now they are better so I will try and make the most of it while I can.
Thanks for your votes on Owl V Penguin, seeing as the penguin is way out in the lead I will have to finish him, I am not to sure where to put his eyes but I'm sure I will work it out, I put a new photo up when he is done. The little birds don't take long to make at all I hand stitched mine and it took about half an hour, if I dug the sewing machine out they would be done in a flash which is why I don't get the machine out because it would be like that star trek episode with the fluffy ball things that multiply out of control.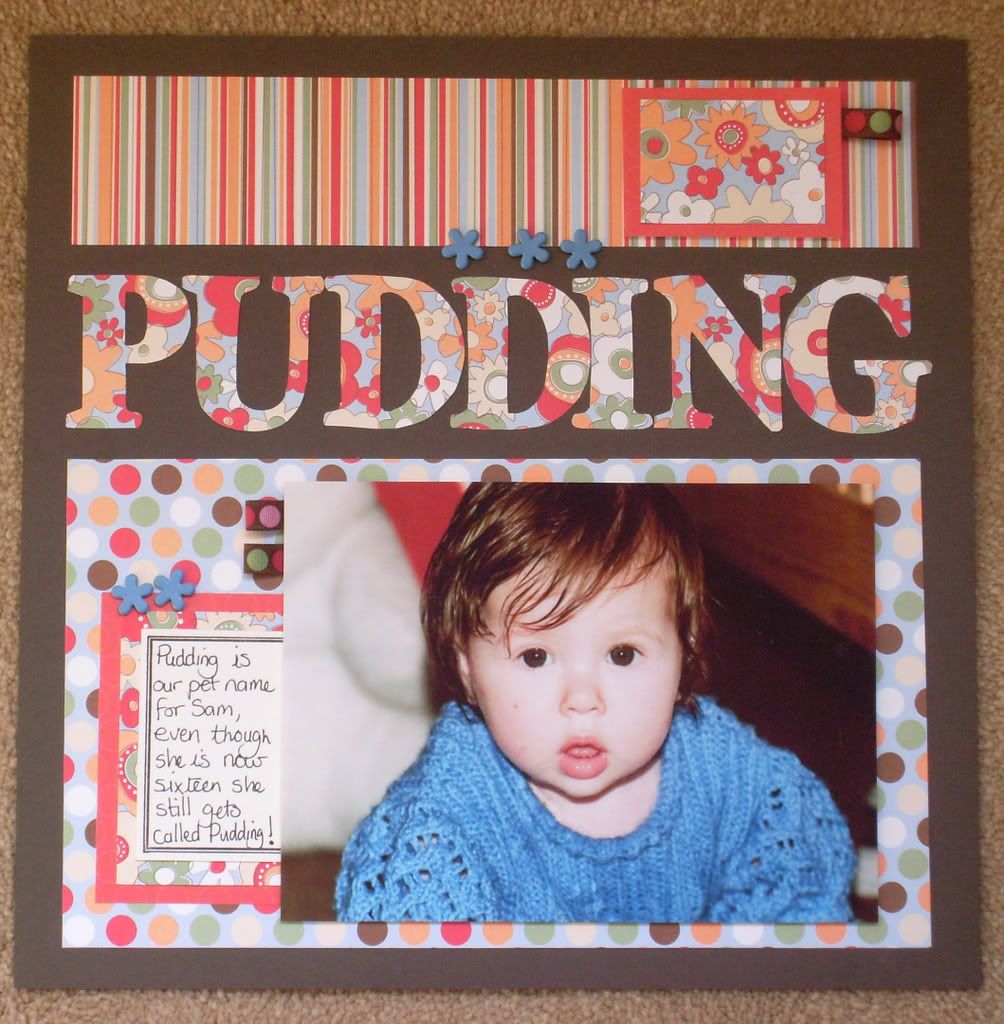 The LO for today is titled pudding as it is our pet name for DD, the photo is one of the ones found in the rediscovered photo album. I have said it before on this blog I am allergic to spots and also a bit intolerant to stripes to I find them quite hard to use but for two reasons I will often force my self to use them, one is get out my rut and reason two is as I often but set of collections of papers if I don't use the spots and stripes eventually they will be the only papers I have left and another reason(beginning to sound like the Monty Python Spanish inquisition sketch is this) is if I do have piles of spotty and stripy papers DH will say I have tons of papers and I shouldn't buy any more. Any way I traced round chipboard letters for the title letters and had to stop myself from edging them or doodling on them.
Take care and thanks for looking.