Hi all, how are you all?
I have been up earlyish for a holiday week, I have already done a bit of house work tons more to do DH let the cat on the bed and he was muddy, the cat not DH, so I have had to wash the covers.
I am catching up on blogging projects now as this Warkworth castle one in the LO I was working on last night, It is the first of a few from that visit but I doubt they will be themed with the same papers. The title was printed and had cut and some of the elements where hand sewn on.
This is the mini book I made as a prototype, I did take plastic covers of as they where almost like food bag in quality. Thanks for the comments about laminating, I was told laminating was out of the question as one resident has found a way to self harm with it, I don't think the project will get off the ground as PC and H&S seems to be getting in the way. Back to the mini book it was really thrown together for the purpose of trying out the cover idea but it is still cute any way and it also addresses the fact that I haven't put anything of my cat Gizzmo on for ages.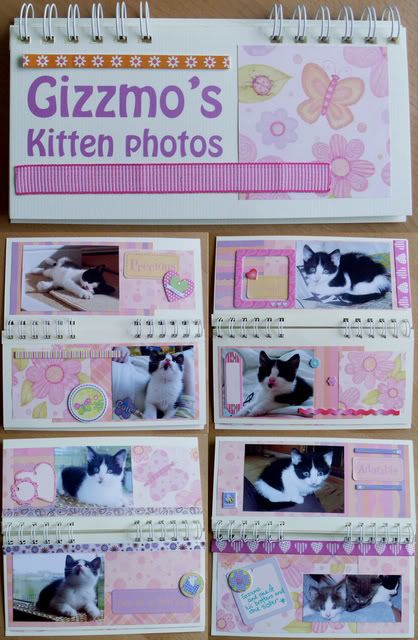 I have got to go now and get some more housework done.
Take care all, don't work to hard and thanks for looking.