Afternoon all, I am running late today as I have papers to deliver, I have now taken over from the kids as DD has been ill a lot recently and DS doesn't like doing them as he was attacked twice, I don't mind as it gets me out it counts as exorcise. DH is back from the hospital and is pot free but they still cant tell what damage was done when he fell but he has a lump on his arm that was not there before he fell but he didn't see a consultant only the nurse.
This is the LO of the cos-play meeting DD and DS had a few weeks back, cos-play is where fans of manga(Japanese comics) and amime(Japanese cartoons) got dressed as the characters, this one was held in boarders so it was a bit of a sales event for them to, they held a drawing competition which DD was gutted as she didn't know and she is really good at drawing manga characters, a costume competition and a knowledge quiz won by one of DD and DSs friends he one a Nintendo DS thingy(so now he has two)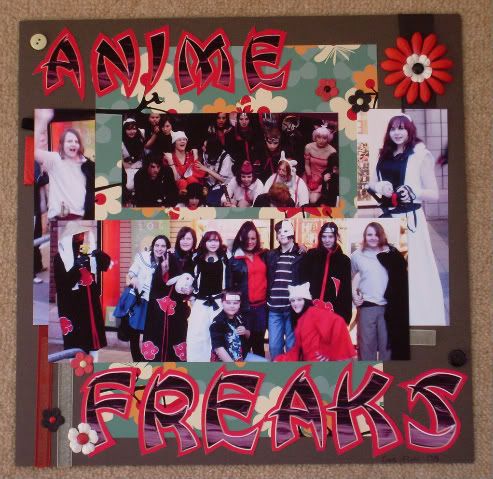 The background paper(which you can hardly see I will see if I can put up a sample) is printed from a CD that came with a
book of patterens
, some are copywrite free and others are personal use only, the text was printed of from a digi kit I downloaded for free, the kit is called kimono but I have had it so long I don't know where I got it but it has lovely papers and some Momiji / Kokeshi style dolls for some of the embellishments.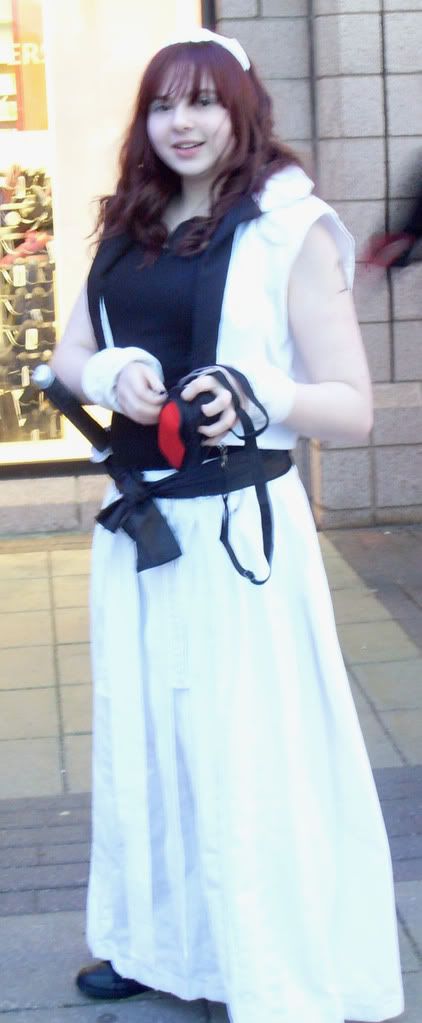 I have also put up a photo of DD in her costume, which I made, the trousers are hakama which are flared pleated outer trouser used much like an overcoat usually worn over karate trousers, the top is sort of kataginu(a sleeveless jacket with exaggerated shoulders) although the last incarnation of t
he jacket did have arms.
I did find the pattern I printed of it was one of the copy write free ones.I have squished it really small but all least you can see what is is like.
Take care and thanks for looking.